Some associate unions exclusively with industrial or construction trades workers or those in manual labour occupations with low education requirements. But in Canada and elsewhere in the world, highly educated professional workers, especially those who work in the public sector, often belong to unions.
Equal Treatment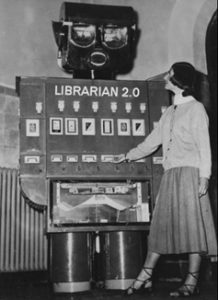 Library workers are dedicated to their profession. The years of post-secondary training it requires to become a professional Librarian with a Master's degree are costly and not easily transferable to another occupation.
Librarians have made a significant investment in their careers akin to an investment in a house. Belonging to a union is a type of insurance that their investment will be protected against arbitrary treatment and that they will have input into their compensation and working conditions.
Many are willing to work part-time while waiting for a full-time position to open up. The years they spend working part-time should count towards their right to full-time work when it becomes available. Only a union can help ensure this.
Other classifications of library workers, such as Public Service Assistants, are in the same position as Librarians. They must be highly educated and typically have to work part-time for years before a full-time position opens up for them. Another classification – Pages – constitutes the single largest group of Toronto library workers. There are currently about 600 Toronto Public Library Pages. All work part-time and most are paid close to the Ontario Minimum Wage.
Since Toronto amalgamation in 1998, the public library workforce has decreased by ten percent while circulation has gone up by 25 percent. This is a very large productivity increase, per worker.
All the evidence is that the library workers' union has contributed to the maintenance of an experienced, stable and dedicated workforce by ensuring fairness and security and promoting professional development.
Health and Safety
Any profession that interacts directly with the public carries some inherent risks. Ontario law, however, entitles all workers to a safe and harassment-free workplace.
The balance between service and safety can be a difficult one. In general, and certainly true at the Toronto Public Library, in order to save money, employers tend to do the absolute legal minimum to keep workers safe.
The primary concern for unions, on the other hand, is to keep their members safe. They achieve this by holding employers accountable to existing laws and by continually advocating and fighting for better and safer workplaces.
Unions are especially needed in workplaces with high levels of precarious part-time workers. Workers in these occupations are often seen as disposable. Too often workers are not aware of their rights or fear retribution from their employers if they make a complaint.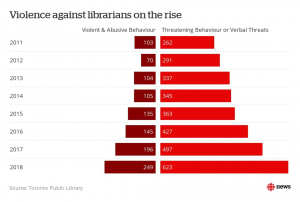 Ensuring the safety of workers costs money. Decades of cuts, reduced funding and bad management have resulted in a Health and Safety crisis at the Toronto Public Library.
Violent and threatening behaviour by TPL patrons continues to increase at an alarming rate. TPL's own figures show that between 2011 and 2018 violent/threatening incidents had increased by 140%.
With an employer who doesn't take our health and safety concerns seriously, the need for a union at the Toronto Public Library has never been greater.
Read more about it here – a CBC article about violence in TPL