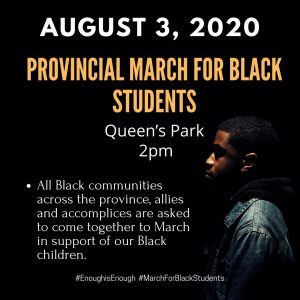 MONDAY! MARCH FOR BLACK STUDENTS
Take a stand to help transform our education system and combat anti-Black racism in schools. Although some steps have been made towards equity in education in Ontario schools, there remains a tremendous amount of work to be done in regards to mitigating and eliminating systemic anti-Black racism. Organized by Parents for Black Children  and Vaughan African Caribbaen Association. Their website details safety guidelines for the march.
Date: Monday, August 3
Start: Toronto City Hall. 100 Queen Street West, Toronto, ON. 2 PM.
Finish: Queen's Park. 111 Wellesley Street, Toronto, ON. 3 PM.